CRx
Grown by their cultivation partners at Natty Rems, Clementine shines in the form of Live Diamonds. Potency and flavor meet in this outrageously mouthwatering, citrus packed concentrate.
Boasting an out-of-control piney, citrus scent, Natty Rems grown OG Kush delivers a relaxing and well-balanced effect. A true classic that has stood the test of time, this live budder has been whipped to perfection and is sure to satisfy.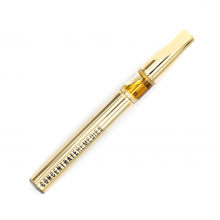 Crafted entirely in-house with pure liquid live resin and absolutely ZERO additives or cutting-agents, Live Resin Disposables provide a flavorful experience that is 100% cannabis derived. Truly full spectrum, there is nothing synthetic about Live Resin Disposables by CRx.